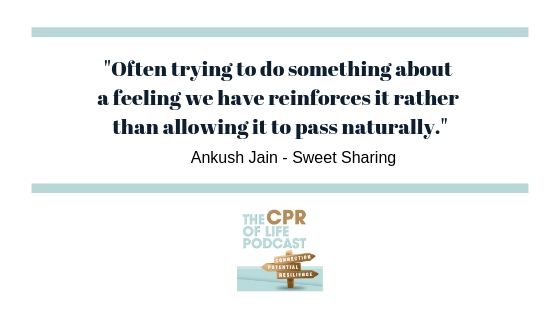 Life is a journey. Depending on the stage we are at, we may be discovering something new about ourselves or rediscovering something we touched on at another time in our journey. In this podcast episode, my guest is author and coach Ankush Jain.   
It's a wonderful and easy read. It was great to talk to Ankush about writing a book and the wisdom behind rediscovering (or discovering) who you really are. 
We talk about:
Why Ankush wrote the book;

The process and challenges of writing a book; 

The ebb and flow of life; and

 How transformation is at the heart of everything Ankush does in his work. 
As I mentioned I recommend this book, it is an easy read filled with gorgeous nuggets. It's always nice to hear the background of how and why a book is written. 
Here are a few thought bomb takeaways:
Our reality is a reflection of our thinking moment to moment. There is a tremendous benefit to tapping into who we were before getting caught up in our thinking;

Younger children show up unfiltered, without a lot of thinking about who they are (or are not), how they are showing up, etc. When we learn how our reality is created we are more likely to tap back into this unfiltered presence; and 

When being of service is at the heart of your coaching business (and really for any business in general) clients feel that and are more likely to gain insight and experience of transformation.   
I hope you enjoy this conversation.
To listen to the podcast on Podbean:
https://thecproflife.podbean.com/e/rediscovering-who-you-really-are/
To listen to the podcast on iTunes:
https://podcasts.apple.com/ca/podcast/rediscovering-who-you-really-are/id1438553484?i=1000445340272
Until next time: Be well. Be inspired. Be You. 
Much love, Jessie-Lynn
To reach Ankush or to access the many valuable resources he has on his webpage:
Ankush's Book "Sweet Sharing"
https://www.amazon.com/Sweet-Sharing-Rediscovering-REAL-You/dp/1796646830/ref=sr_1_1?crid=2ULLM1LJ4YR5E&keywords=sweet+sharing+ankush+jain&qid=1564112912&s=gateway&sprefix=sweet+sharing+ankush+j%2Caps%2C283&sr=8-1
https://www.amazon.ca/Sweet-Sharing-Rediscovering-REAL-You/dp/1796646830/ref=tmm_pap_swatch_0?_encoding=UTF8&qid=1564113832&sr=8-1