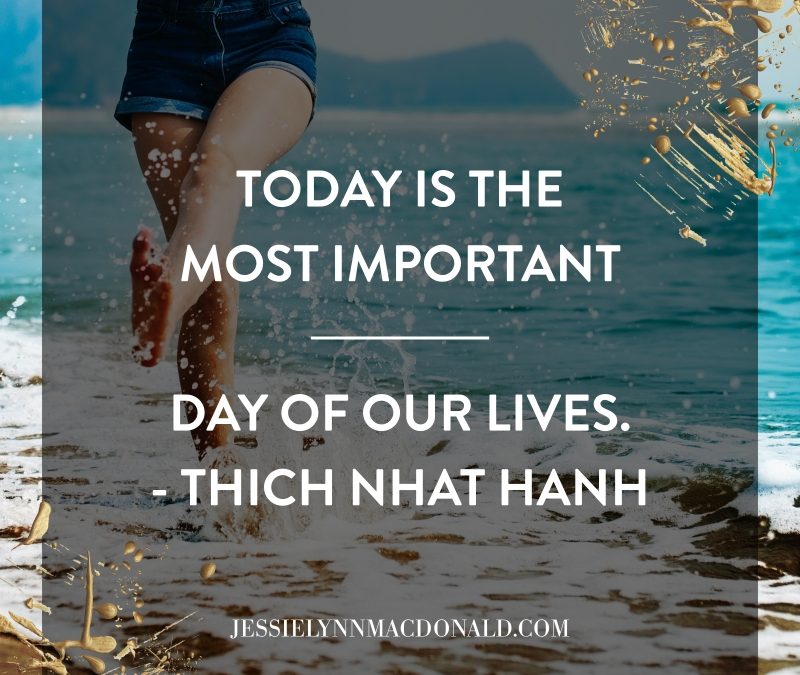 "Today Is The Most Important Day Of Our Lives." – Thich Nhat Hanh
I hope you had a wonderful holiday season and are feeling recharged as we enter into a new decade.
Big changes have been happening over the past few months. In September of last year, I took the lead on an exciting new campaign in Canada – My Mental Health Rocks. This amazing campaign started in the UK is all about promoting wellbeing, resilience and raising awareness of our innate mental health and wellbeing in children, youth and teens. I'll provide more details about that in a separate post.
This new role has taken all my focus and effort, as a result, I put The CPR of Life podcast on hold. I'm happy to be starting it up again next month with some fabulous new conversations focused on mental health and wellbeing.
For now, I want to share a few words with you as we enter 2020.
I see a lot of posts about resolutions, not having resolutions, what the new year means, etc. I wanted to share a few thoughts as we begin a new decade. Let this time be whatever best serves you moving forward in your life.
If it helps you to have resolutions go ahead and create a list, but leave room for the beauty of the unknown. Don't get caught up in the anxiety of not meeting an expectation you created for yourself. If you have no desire to create a list then don't.
There is so much magic in the unknown. Be curious, be open to new experiences, opinions, beliefs.
My wish for you as you start this decade is that you embrace your greatness. No-one can do you as good as you can, so you do you. Embrace all that you are beyond the stories you engage in – beyond the fears, the judgement and the criticism. You are a beautiful bundle of infinite potential.
Stop searching and start living. Often when working with clients they are striving for something, to be something, to have something. They are so focused on all the absence of things they are missing out on the most incredible gift we all have – the present moment. What about right now?
Be grateful for all that you are, you are enough, right now just as you are. Whatever you are searching for will not make you more amazing. I'm not saying don't try to better yourself, to learn a new skill, etc. Just know that you are starting from a place of already being more than enough, just as you are.
Be more than kind to yourself, your inner being is always with you, it is the unique light that makes you literally one in 7.8 billion. Read that again, you are one in 7.8 billion! As you move forward in this decade embrace that unique statistic. Embrace all the things that make you so incredibly unique. Have more presence, find beauty in the ordinary, have amazing adventures and beautiful connections.
Cultivate the most extraordinary relationship with that inner being that is always with you. Ready to shine through the layers of judgement, criticism, the excuses, the stories. I promise you that it will be the most rewarding relationship you will ever have. It will be the most valuable way to spend your time as you move forward.
I wish you all much love, peace, gratitude, curiosity and presence as you begin 2020.