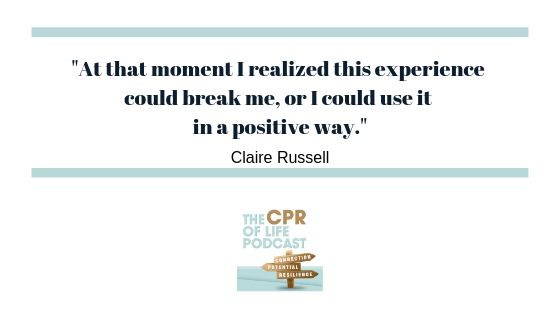 It's so good to be back. I took a break from the podcast to take care of some unexpected family medical issues and to dedicate my time to mental health awareness week. I have to say I have really missed the conversations and connections I have with my guests.
While mental health awareness week is over it's so important to keep the conversation going. More so, to take the conversations forward into inspired action. In this conversation, Claire Russell and I talk about why mental health and why it is so important to include in the company culture.
We have a lovely chat about:
The importance of acknowledging mental health in the workplace;

Mental health affects us all, if you have a heartbeat, you experience mental health;

#time4action is about taking the conversation about mental to the next level; and

The wonderful work being done by the charity Samaritans.
I'm so grateful that Claire was willing to share such intimate details about her life. I'm truly inspired by her and everything she is doing to raise awareness about mental health.
Here are a few thought bomb takeaways:
I have to say this really hit home for me. Business leaders (and leaders in general) have a responsibility to make mental health part of the business culture. There is a huge ripple effect when leaders embrace this;

Many of us think we are immune to mental health issues. The truth is no-one is exempt from experiencing low moments that feel overwhelming. The secret is understanding that this is normal. It's like a personal alert system that it's time to take notice of how you are experiencing life in that moment;

There are many organizations doing amazing things. The organization Samaritans responds to a call every 6 seconds. There are two things that stand out to me about this statistic. Firstly, there are a lot of people who feel they don't have someone they can reach out to. This is our humanity, this should be at the forefront of the news and we are all responsible to help address this issue. The second thing that sticks out to me is that organizations such as this one make a tremendous impact on society. I'm truly grateful they exist. And finally

For what purpose? This is such a great question, it's wonderful to have conversations but ask yourself – for what purpose? There is always so much talk, it's time to take action.
If you are curious to learn more about cultivating mental health and wellbeing in your business, organization or workplace please don't hesitate to get in touch. I'd love to chat.
Until next time: Be well. Be inspired. Be You.
To listen to this episode on Podbean:
https://thecproflife.podbean.com/e/why-mental-health-in-the-workplace-matters/
Much love,
Jessie-Lynn
To reach Claire:
To learn more about the amazing organization Claire volunteers with – Samaritans: